Prime Minister Celebrates Automation by Visiting Bauromat Customer
Member News
Telford based robotic and automation systems integrators Bauromat UK Limited enjoyed the visit of Prime Minister Boris Johnson to one of it's recent welding installations in January.
With the government holding a cabinet meeting in Sunderland on Brexit Day, 31st January 2020, the Prime Minister visited the University of Sunderland's SAM project, in which MIM Member Bauromat UK Limited recently installed a HiArc Compact welding cell.
The SAM Project (Sustainable Advanced Manufacturing) is a project aimed to support SMEs in the North East and surrounding areas with the development of processes and technologies in all areas of manufacturing, with Bauromat's contribution aiming to provide SMEs with the benefit of robotics & automation.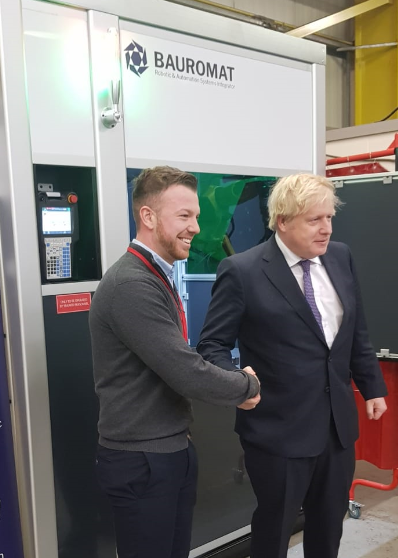 "We're really honoured to have had the Prime Minister give us his time and look at our welding system" said Managing Director John D'Angelillo
"It's great to be able to show the benefits of automation and robotics at the highest level and across the national news. We want this to be the starting point of 2020, Brexit and beyond."
PM Boris Johnson spent time with each area of the SAM Project including advanced machining, measurement and material forming while learning about the benefits of automated welding in the robotics and automation area under the tutelage of the Bauromat welding system and its Service & Support Manager Steffan Willetts.
The Prime Minister's visit and surrounding media coverage has given Bauromat UK Limited an excellent boost in 2020 as the Telford-based automation solutions provider continues to be a flagbearer for automation, robotics and the benefit they can have for manufacturing throughout the UK.