Latest Automation Figures Present Huge Opportunity for UKMFG.
Member News
The leading automation and robotics industry group, The International Federation of Robotics (IFR), has released its annual automation figures from around the world, and the results paint an exciting opportunity for manufacturing in the UK.
Released every September, the figures show that globally the number of robots being used throughout industry has grown by 12% in the last year with a record 2.7 million industrial robots now operating in factories across the world.
Numbers across Asia (21%), America (7%) and Europe (7%) are all up on the previous numbers, but despite the global trend, the UK has seen robotic numbers fall by 16% over the past 12-months. This puts the nation well behind its European competitors, below the global average for robotic density and not even showing in the top 20 leading automated nations.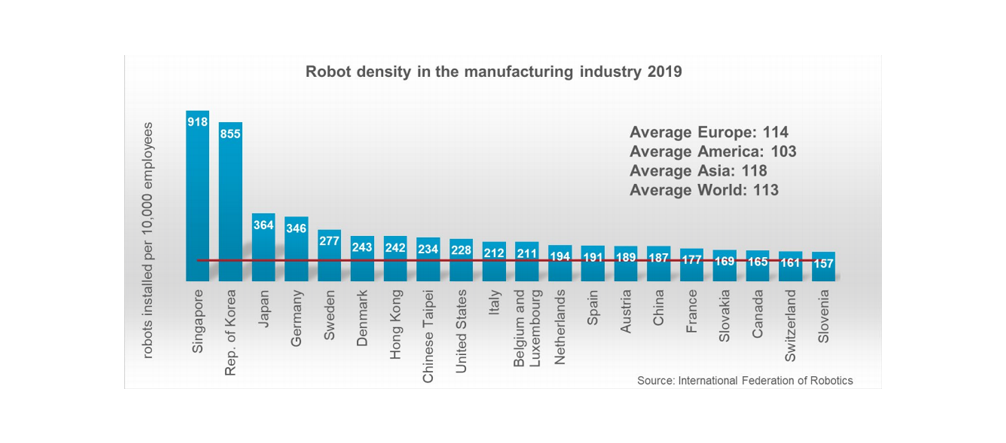 The report continues, stating that the newly installed 2,000 robotic units is roughly three times less then those in France (6,700 units), five times less than Italy (11,100 units) and a staggering 10 times less than shipments in Germany which topped over 20,000 new units in the previous year.
Despite the significant gap to its European neighbours, the report presents a huge opportunity for the UK manufacturing market, particular following the COVID-19 pandemic and increasing demand of modernising production means.
The report concludes that automation continues to be the solution for increased production, re-shoring of work and maintaining cost efficiency, and if the UK is to maintain competitive on the global market post Brexit and following the pandemic caused recession, automation looks as though it's the avenue to pursue.